People STILL ask if Jim had ever met John Denver…..it is one of our most frequently asked questions – so please forgive me for repeating an old story that has been repeated before.  I originally wrote this story in 2012, but I updated it and posted it here so I can tell people to read it in the blog when they ask.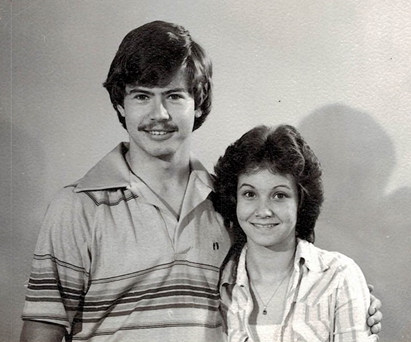 As long as I've known Jim (almost 50 years now) I've known that the one person in the world he most wanted to meet was John Denver. It's a common question we get at every one of our concerts, and we've met so many people and heard so many stories of how they met John and how nice he was to them. Jim has never met John, but not for the lack of trying.
The summer after Jim graduated from high school, he bought tickets to see a John Denver concert near his home in Houston, TX. Somehow he obtained a precious backstage pass….this was his chance to meet John! Jim went to the concert with a girlfriend and two other friends from high school. Being a gentleman, Jim handed the pass to his girlfriend and said, "We'll take turns, you go first."
But she didn't return to share the backstage pass.
Jim and his two other friends found themselves waiting for her in the parking lot after the concert. They were an hour away from home, and they didn't know if they should leave her there, and how they were going to explain to this girl's parents how they lost her in Houston. After about a half hour, she finally returned to where they were waiting in the parking lot. She was overjoyed and full of stories about how she met John Denver and the entire band, and how nice everyone was, and what a wonderful time she had…..
Not too long after that Jim moved to California to resume a relationship with me (we had dated earlier, before Jim's family moved to Texas). The rest is history, MY history. I kind of think it's possible that if this girl had not been selfish, Jim might have been able to realize his dream to meet John Denver. But then again, he might have stayed with that girl in Texas instead of moving back to California.
Thank you John Denver, for changing my life.